Industrial Services
---
Closed Circuit TV

.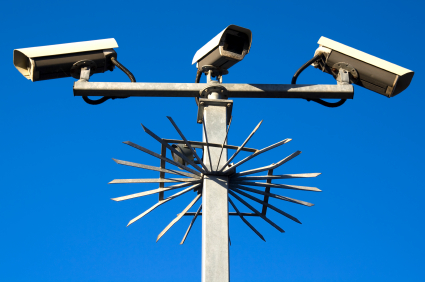 All Blue Sky Security Systems CCTV surveillance systems are designed and installed to each client specific requirements. You may need to deter and detect shoplifters, or monitor the movement of the public. This can be achieved using simple static cameras which are monitored by a member of staff, perhaps via a full duplex machine giving up to 16 cameras on one screen. All 16 cameras could also be recorded for later playback or evidence. Many stock shrinkage problems have been solved using a similar set-up. Using the latest high speed dome cameras an operator can quickly follow a suspect using pressure sensitive controls.
Speed domes may be utilised to automatically focus on an intruder at night, If a detection device is triggered, say a door opened then the camera would pan, tilt, zoom and focus on that door recording the event.
Digital recording
In place of conventional VCR's and tapes we can use digital storage techniques. As all the pictures are filed in a similar manner to your normal computer files it is far easier to search for the information you need. You could quickly search for pictures connected to a particular incident rather than fast forwarding tapes. Using this technology the central station, guarding company or yourself can via telephone lines replay any pictures you need, to download them, print them, even e-mail them.
Remote monitoring
Our central station can receive CCTV pictures along with any conventional intruder alarm signals. If an intruder is detected the central station operator would then have the advantage of being able to confirm to the police the presents of the intruder along with a description and current whereabouts. Under such circumstances the operator could take control of the CCTV system and operate it as if he were on site, tracking the intruder and recording vital evidence.
Remote guarding
CCTV is a very cost effective way of performing guard tours of your premises. Via a telephone line the guarding company can tour the site instead of walking it as in the past. The advantages are numerous; the guard can not be ambushed and attacked, leaving him safe to report to the police. All tours are recorded, you can be sure that all tours are being performed efficiently and at the correct time intervals. Because the time needed to perform a remote tour is minimal, there is no traveling time to site. A fence line does not need to be walked and each room can be visited at the touch of a button, therefore the operating cost is a fraction of that compared to conventional methods.
---